Kilimanjaro
February, 2012
A little history...


The mountains completely sucked me in while trekking to Everest Base Camp with my 13 year old son in April, 2010. After I got home, I signed up for a glacier mountaineering course on Mt. Baker and my climbing "career" began. Shortly after Baker, I climbed Mt. Rainer and the following year I went to South America and climbed many peaks in Ecuador and Bolivia. I'm not sure when the idea presented itself but at some point in South America, I started thinking about "The 7 Summits". So... here I go! Number 1...


Getting ready...


Although Kilimanjaro is not a technical climb, it is still a 19,340 foot volcano that deserves respect. Because I was climbing in Feb., there was not a lot I could do in terms of elevation training in the Pacific N.W. but I was able to focus on fitness. I ran stairs, rode my bike, did yoga, rode my snowboard, went for hikes, etc. I started taking 125 mg./day of Diamox the day before I was above 10,000 feet elevation and... hoped for the best.
| | |
| --- | --- |
| Feb. 2 - 4, 2012... | Flying into Kilimanjaro Airport was a series of "unfortunate events"; broken engine, snowstorm in Amsterdam, too much snow on the runway, frozen wings, flight crew worked too many hours so we had to re-route, paperwork wasn't "in order", etc. Amazingly, when I finally arrived, all my luggage was there and driver (slept in his car all night waiting for my plane to arrive) was waiting to take me to my hotel. |


Arusha...

Because I hadn't really slept on the plane/s, I was exhausted but I made myself stay up all day so I could sleep through the night. Downtown Arusha was the only "safe "place that I could visit. Didn't feel safe.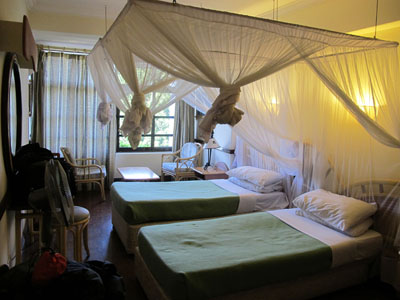 After a pre-trip meeting with my group, which I slept through most of, I finally stumbled up to my room for a much needed nights sleep.
Feb. 5, 2012...

On our way too climb the mountain! There are many routes to the summit but I chose The Lemosho Route. Was described as the "least" crowded (all the groups converge a few days into trek), the most scenic, and most challenging route to the summit.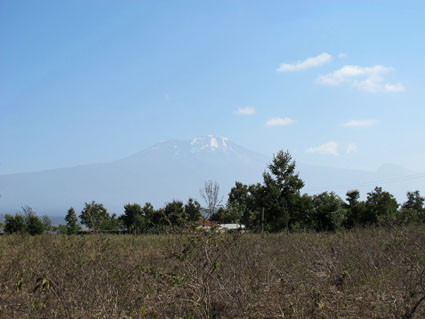 Our first look at Kilimanjaro... so far away!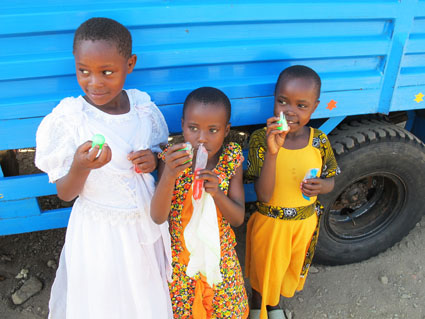 Cute Africian girls showing off their "new blinky rings".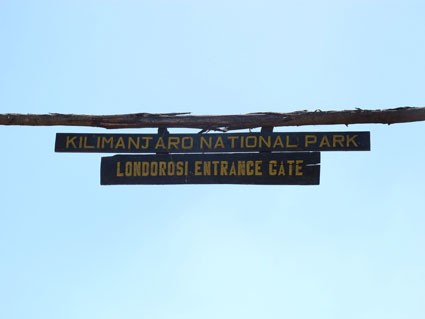 After signing in at park entrance, we are finally ready to begin our trek.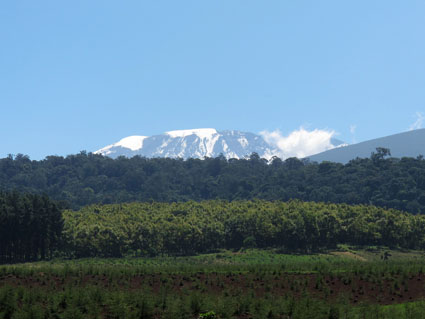 Still can't believe how far away it is.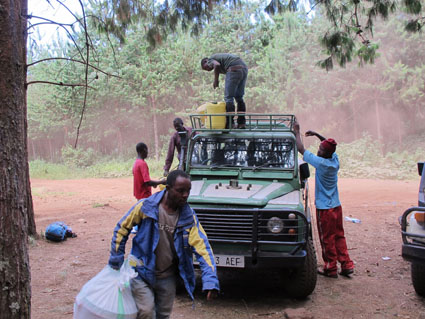 At the Lomosho Trailhead. Porters were amazing!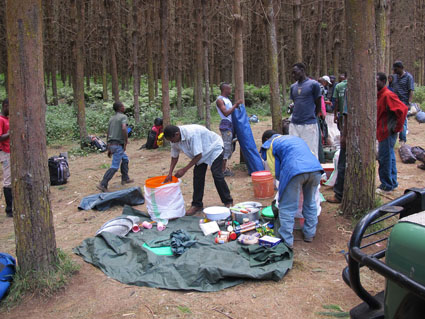 Organizing, sorting, packing... so much to do. They make it so easy for us.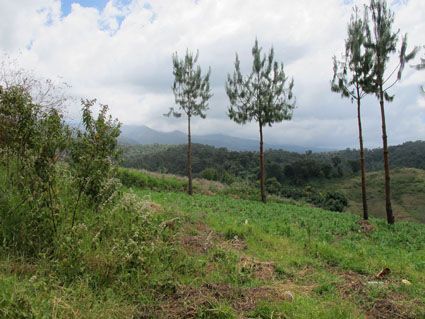 Trekked through beautiful rainforest most of the day. Porters insisted on a really slow (too slow) pace to avoid attitude sickness. "pole pole", meaning slowly slowly, is the common theme on Kilimanjaro. We did see a couple of Colubus Monkeys in the trees. I guess if we weren't walking so "pole pole", we might have missed them.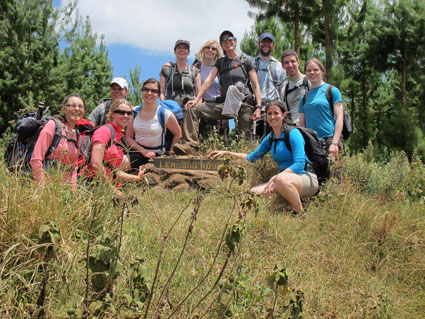 My trekking group... really fun people from all over the world.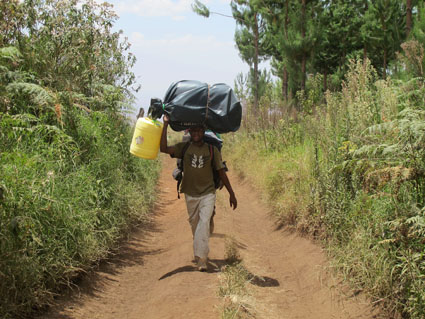 Jambo (Hello), Mambo (How's it going), and Poa (Okay (in response to Mambo)), were also common Swahili words used by the guides and porters.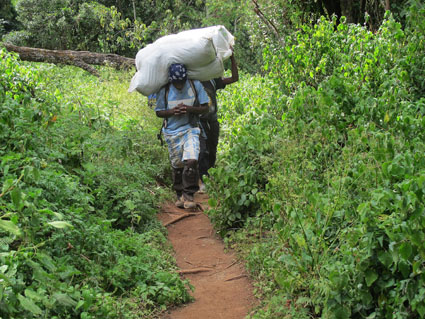 There were many spectacular things to see on Kilimanjaro. The people were fascinating... worked so hard and always happy!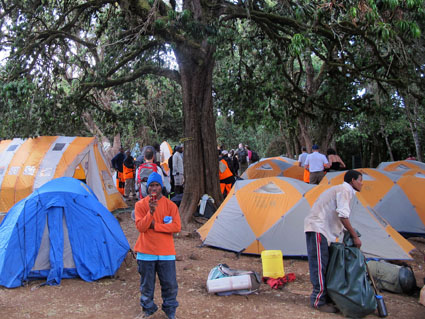 Lemosho Forest Camp - 8,700 ft. Started taking Diamox (125 mg/day with dinner until I came down from the summit).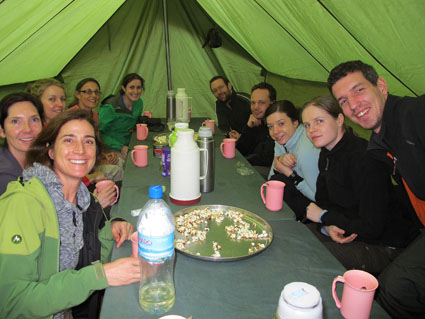 The dinner tent. Popcorn, peanuts, and tea were served for afternoon snack everyday, followed by warm water for washing (delivered to our tents every morning and afternoon by our porters).
Feb. 6, 2012...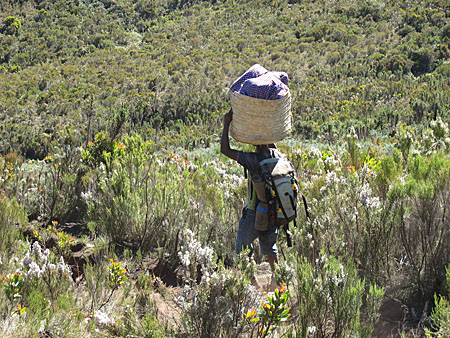 Woke up to porters bringing coffee and hot water for washing a.k.a. "washy washy" to my tent. We soon left the forest behind and entered the moorland zone of giant heather.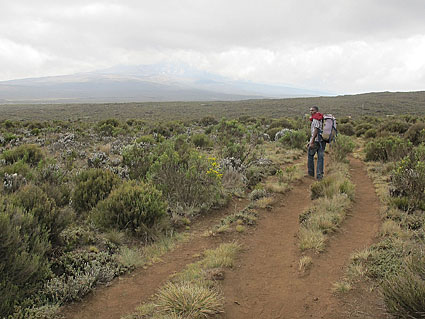 Our group was split into 2 so we were able to pick up the pace with our guide. Felt so good to move a little faster after the previous day of "pole pole".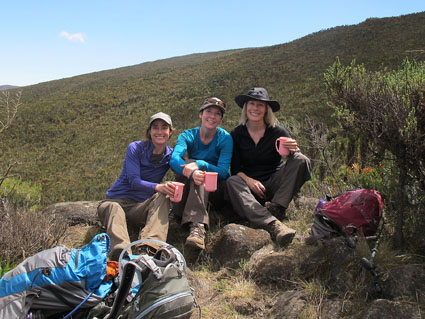 Lunch break at 10,000 ft. Our guide gave us hot soup. My favorite meal on the mountain.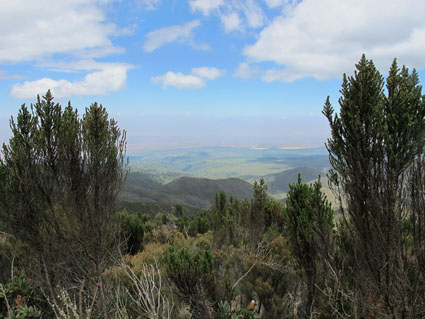 Beautiful views as we ascended to the rim of Shira Plateau.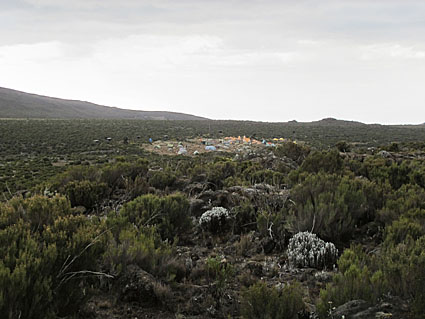 Camped in the center of Shira Plateau at Shira One Camp (11,000 ft).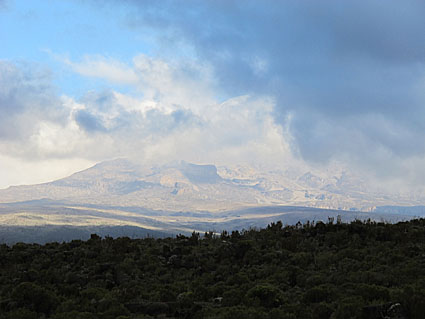 Mt. Kilimanjaro is getting closer!

Another amazing night on the mountain. After hike had "washy washy", snack, dinner, Diamox. Altitude has been a non-issue but taking Diamox, "just in case". Only side effect... it's a diuretic. Had to wake up every night to pee but aside from that, felt great! Really cool dreams at altitude.
Feb. 7, 2012...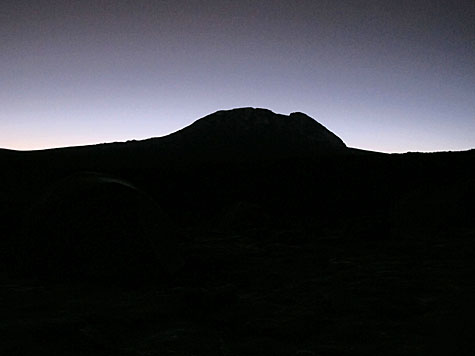 Amazing views at 4:00am!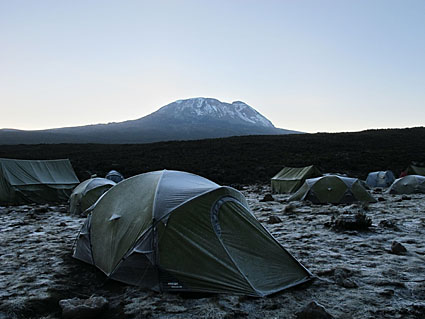 Mornings are getting colder but warms up fast. Weather has been amazing.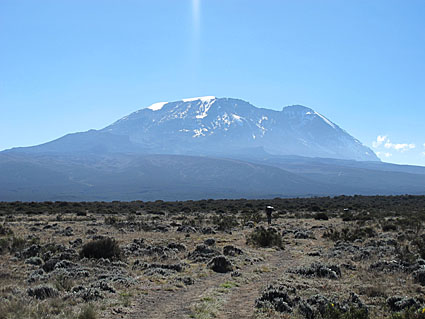 Heading to Barranco Camp via the Lava Tower.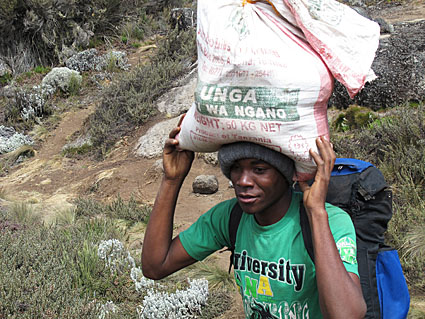 Amazing porters...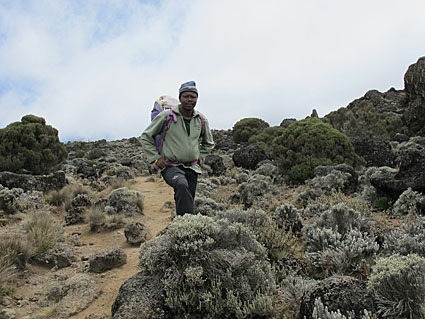 Amazing guides...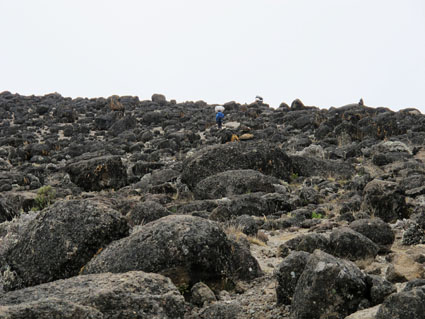 Amazing scenery...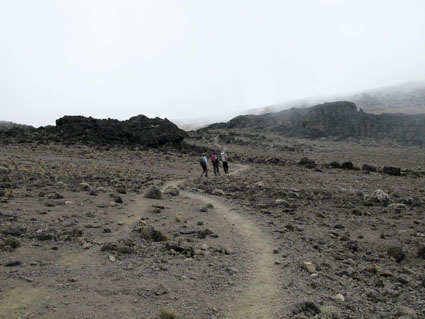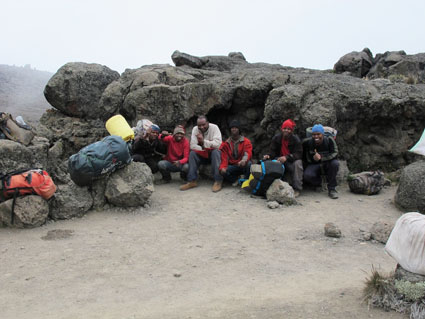 Porters were always cheering us on...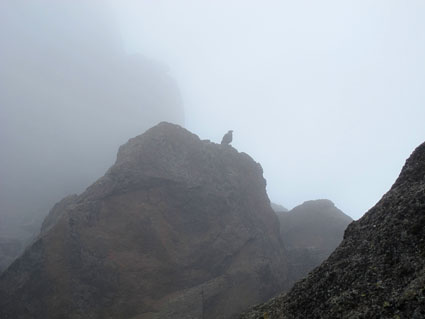 Finally, made it to Lava Tower but... fog rolled in and we couldn't really see it.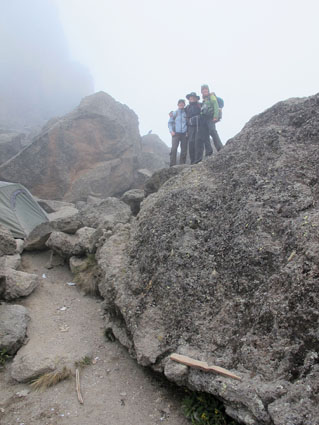 Lava Tower (behind us) - 14,900 ft.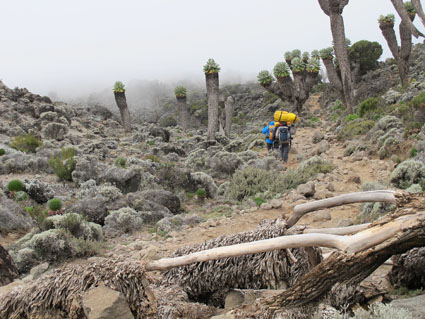 From Lava Tower, we descended to the bottom of the Barranco Valley to Barranco Camp. Another amazing scenery change, beautiful "cactus-like" plants along the trail, senecio kilimanjari... so diverse.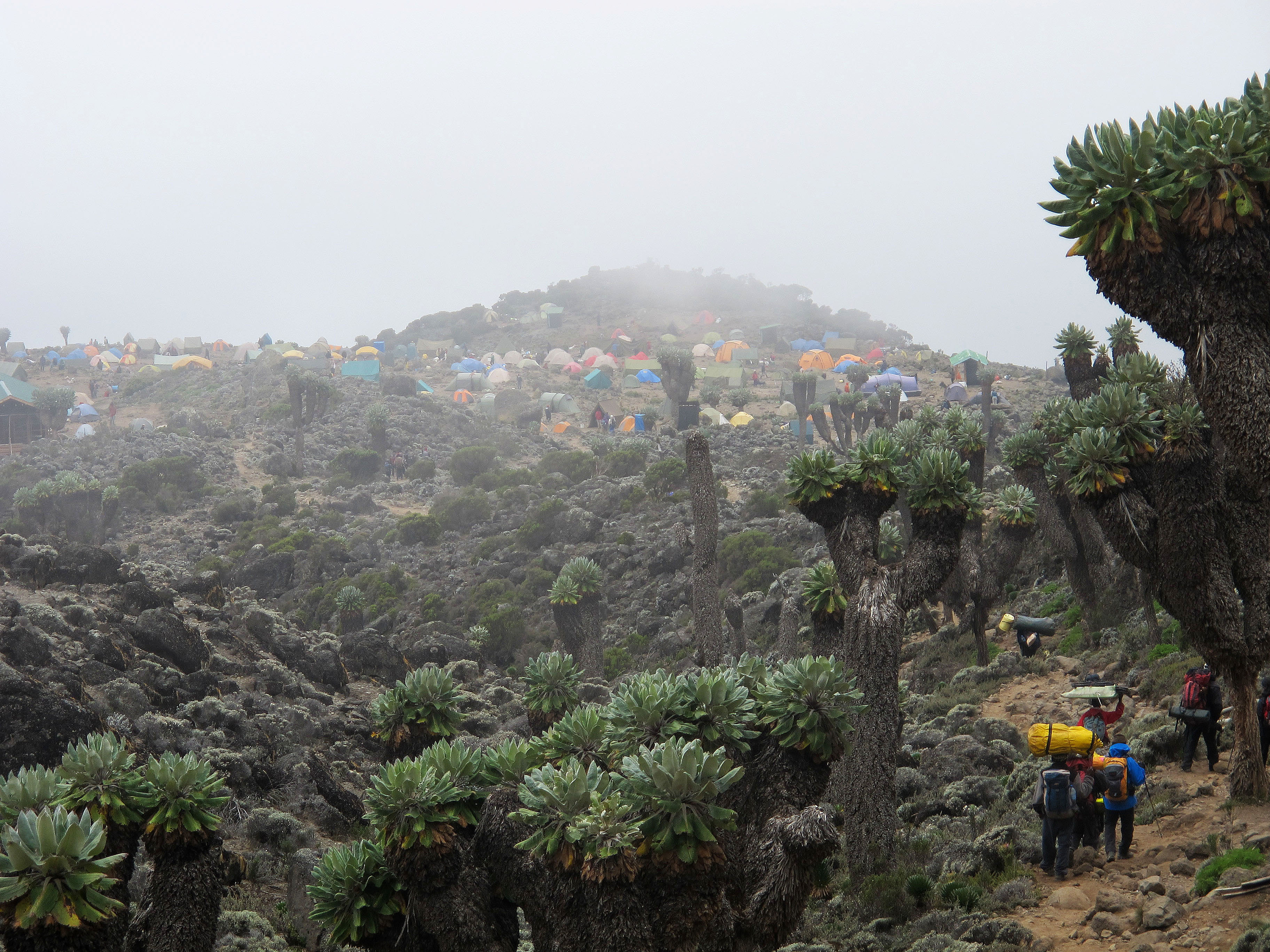 Barranco Camp - 12,790 ft.
Feb. 8, 2012...

Getting ready to tackle the Barranco Wall...
Crazy train of trekkers and porters bottlenecking the trail... sorta takes away from the "mountain experience". Still... a beautiful climb with many incredible views of the summit.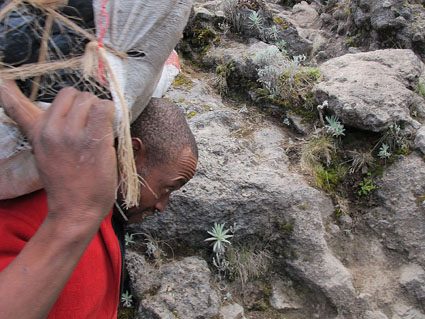 Really fun climb with a 20lb. pack... not sure about this.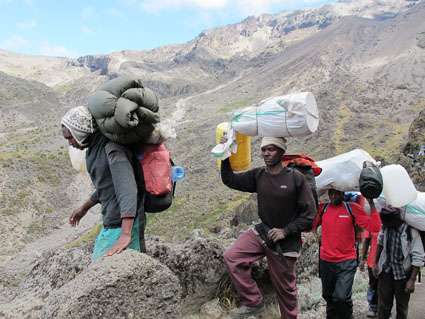 The porters are such a huge part of the mountain...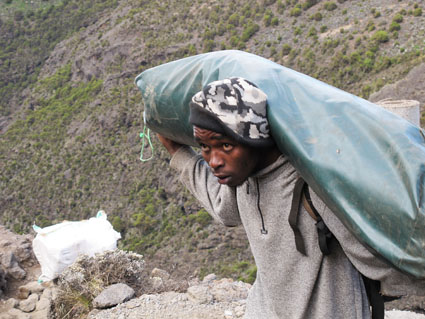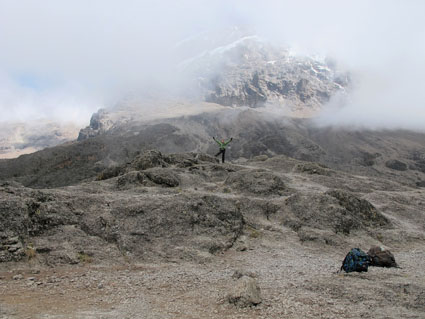 Kilimanjaro!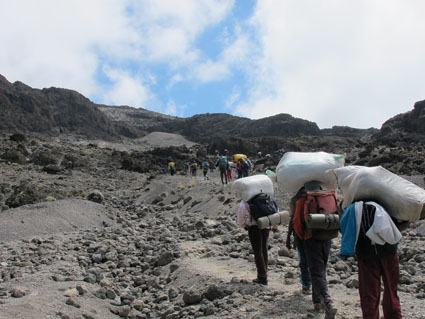 Heading to Karango Camp..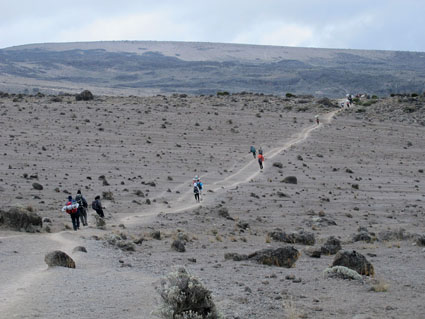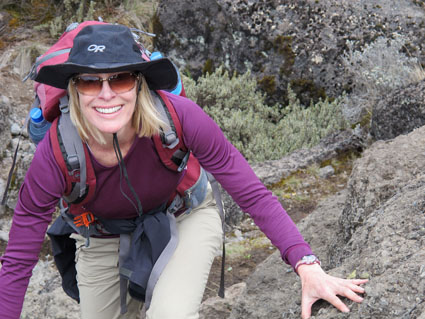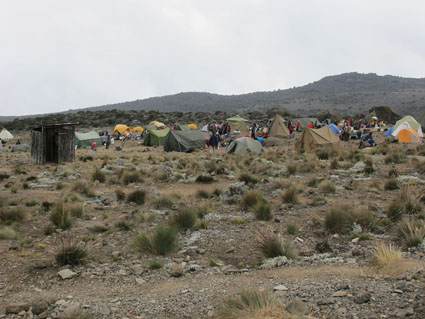 Karango Camp - 13,100 ft.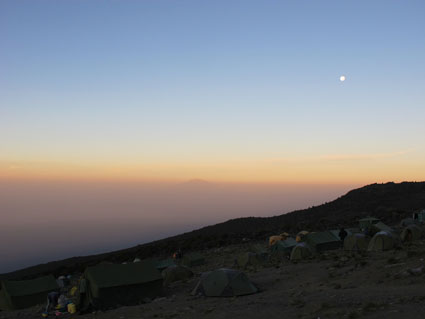 Mt. Miro
Feb. 9, 2012...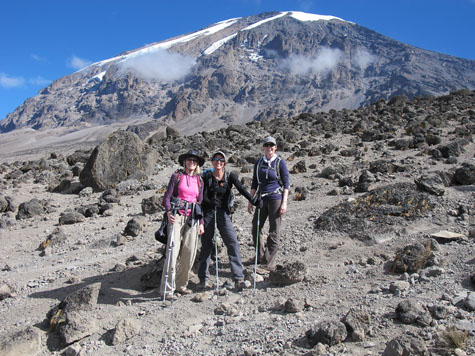 On our way to Barafu Camp. Last camp before summit. So close!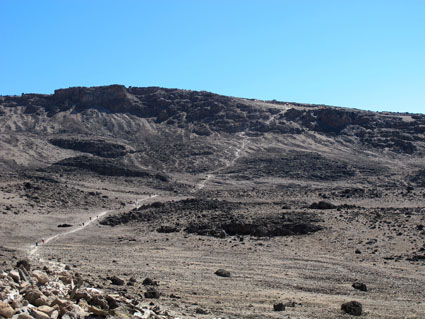 Easy trek down into the valley...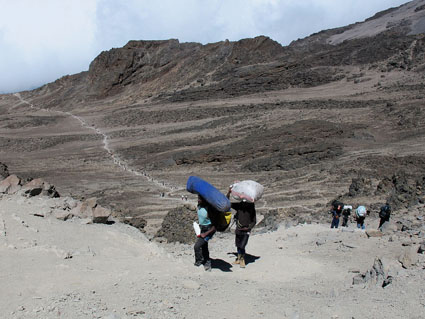 and up to Barufu Camp.

Best toilets on the mountain. Funny that they are the highest.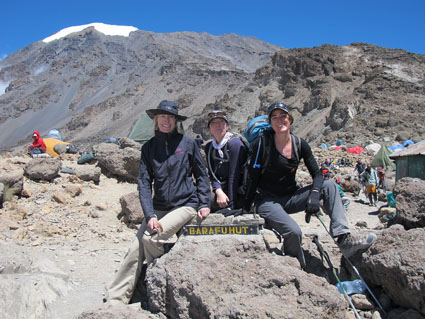 Barafu Camp - 14,800 ft.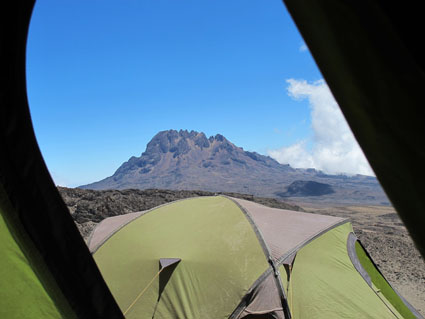 Beautiful view of Mt. Mawenzi right outside my tent.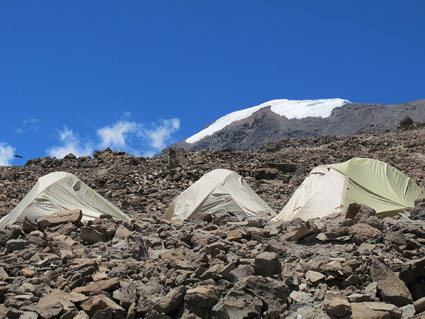 The summit is awaiting...
Trying to chill and conserve energy for tomorrow but so hard to do at 4pm and 14,000+ ft.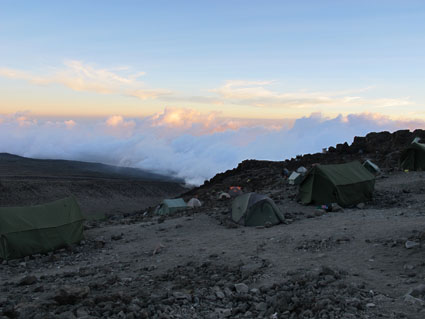 Amazing energy at camp. Everybody is so excited, nervous, anxious, etc. for summit.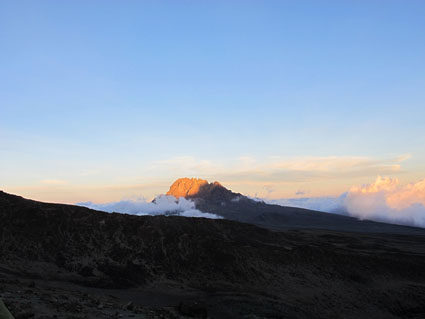 Weather is looking perfect for summit day!
Feb. 10, 2012...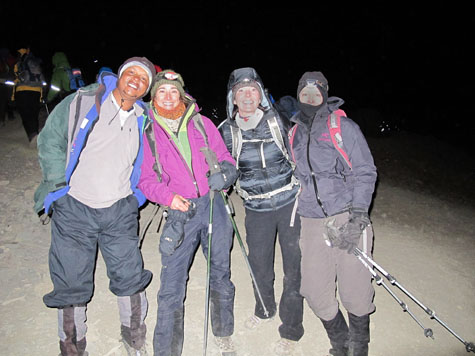 Woke up at 11pm and we were heading up the mountain by 12:15am.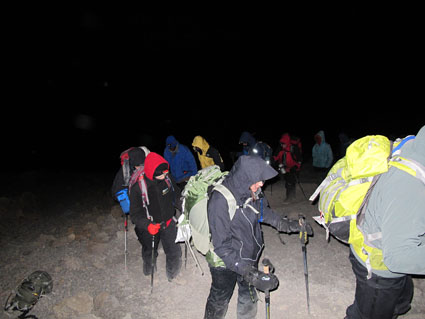 Once again, a train of people to get past before climb became our own. So many people climb Kili... not sure that's a good thing considering all the sick people we saw coming down but... "anybody can do it". Getting really cold and really windy but... sky is clear and summit is so close.

5am... Stella Point - False summit - 18,800 ft.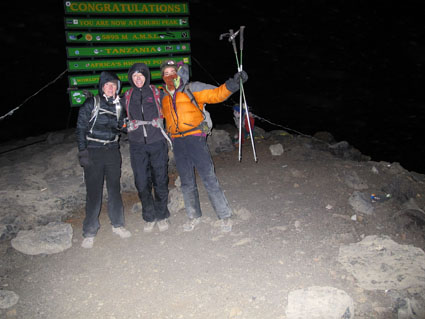 5:45am... Summit of Kilimanjaro! - Uhuru Peak - 19,345ft. Highest Point in Africa!!! Feels good.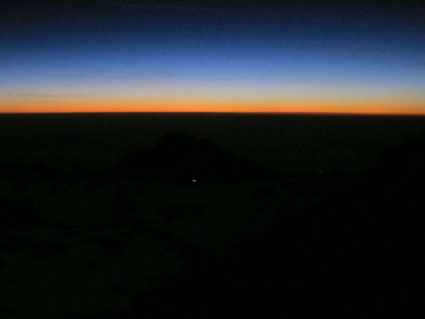 Going down... can still see the headlamps from "people train" on the way up.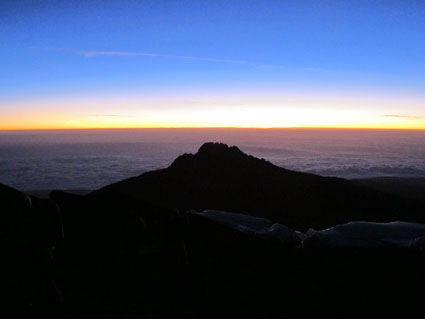 Leaving the highest point in Africa... bitter sweet.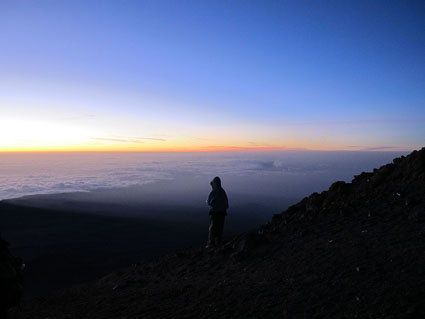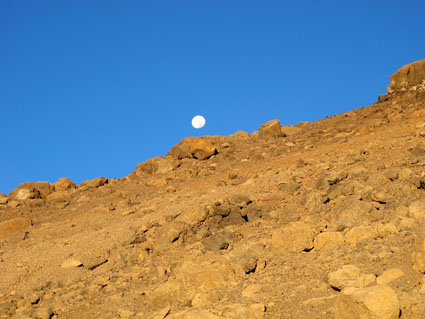 Loved having the moon illuminate most of our climb. Pachumama was good to us!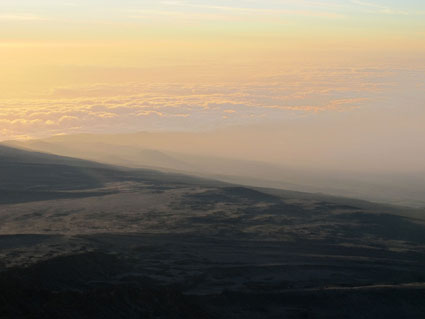 The hike down had a couple options... could follow the same network of swithbacks that we took on the way up or... could step off the trail and ski the skree all the way down. Fun ride!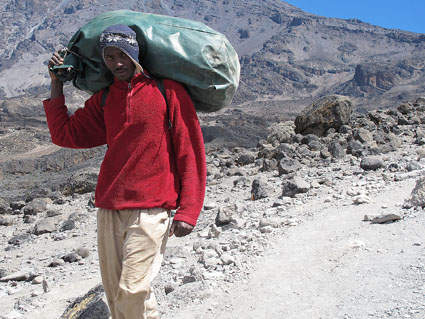 After a short break down at Barafu Camp, we packed up and headed down to Mellenium camp for our last night on the mountain.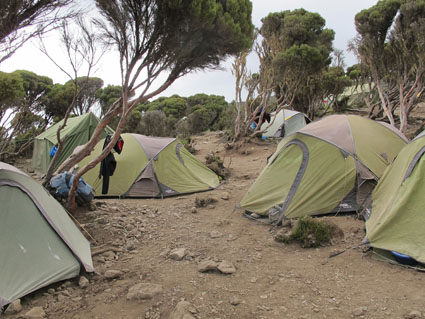 Mellenium Camp - 12,500 ft.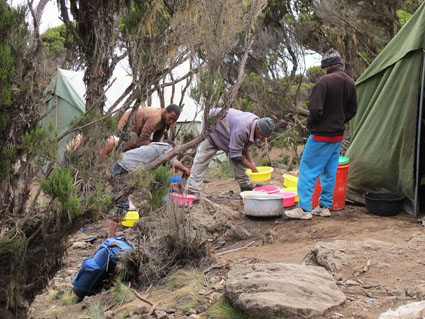 Porters getting hot water ready for much needed "washy washy".
Feb. 11, 2012...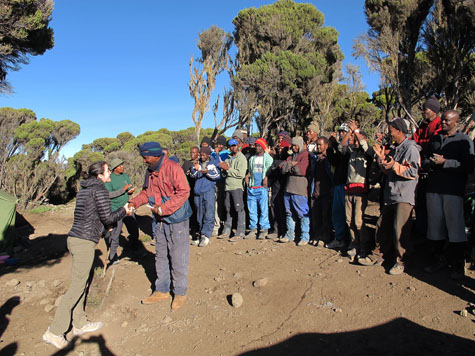 Last morning on the mountain. After customary tipping ceremony, porters, guides, cooks, etc. sang and danced for us. One more final trek down to Mweka Village (5,400ft) and we were transferred back to Arusha.