Ecuador
January, 2011
| | |
| --- | --- |
| How it began... | In August, 2010 I took a glacier mountaineering course in the North Cascades and on the last day of the course, we climbed Mt. Baker. It was my first "real" mountaineering experience and I was hooked. One week later I climbed Mt. Rainier and then four months after that I flew to Ecuador and climbed 5 mountains in 8 days!. |


My itinerary...


My schedule was tight but there is a certain progression that must taken when climbing at high altitudes. At breakfast the morning after I arrived in Quito, I sat down with my guide, Pablo, and tried to comprehend what I had signed up for as he quickly rattled off my itinerary...
Day 1: Ruco Pichincha, 15,413 feet
Day 2: El Corozon, 15,708 feet
Day 3: Iliniza Norte, 16,817 feet
Day 4/5: Cotopaxi, 19,347 feet
Day 6: Rest day in Banos!
Day 7/8: Chimborazo, 20,565 feet
| | |
| --- | --- |
| Ruco Pichincha... | My first acclimatization climb after flying in from sea level the day before was Ruco Pichincha. We drove from Quito to the base of the mountain where we took a gondala to about 13,000 feet. From there we climbed to the summit. It was a pretty straight forward first climb. Nothing technical, except a little scramble near the top. Altitude was definitely the hardest part. |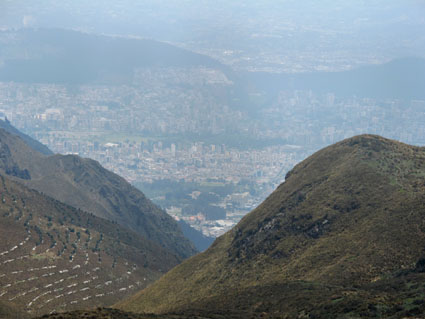 Looking down at Quito. Air is thin, I feel light headed but so happy to leave the smog behind.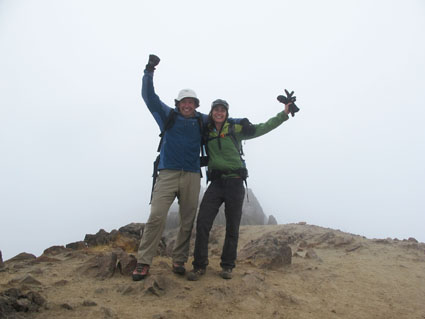 Summit #1, Ruco Pichincha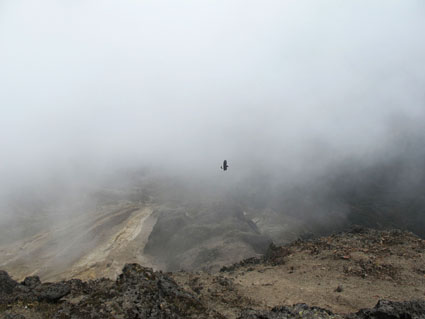 Above the birds! Heading back down to Quito. Encouraging day considering I came from sea level. Taking 125 mg. of Diamox at night. Felt only mild elevation symptoms.
Heading south...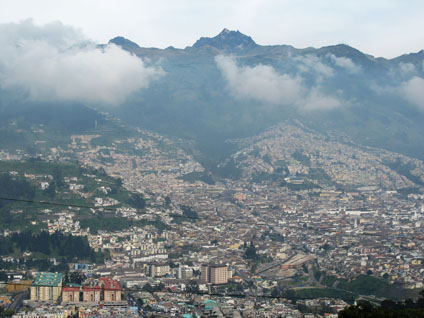 Day 2... Leaving behind Ruco Pichincha and Quito, headed south towards El Corozon, Iliniza Norte, and Cotopaxi, summit 2,3, & 4.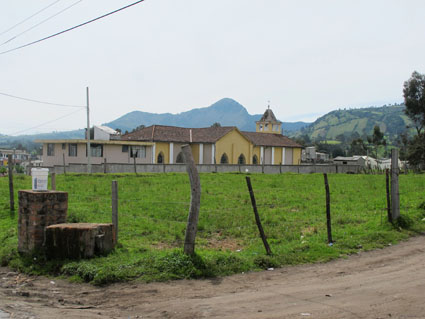 El Corozon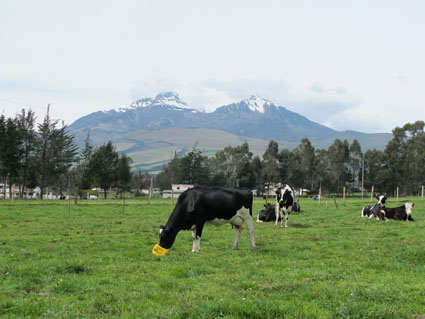 Iliniza Norte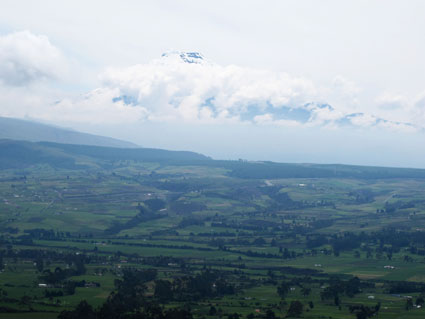 Cotopaxi
El Corozon...

Peak number 2...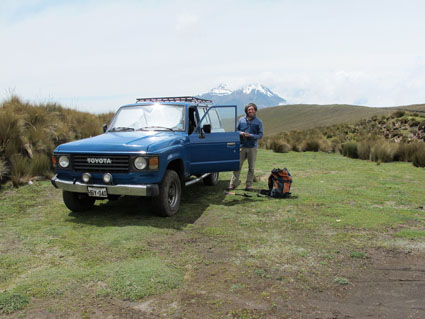 Amazingly, we made it to the "trailhead" alive. The "road" is in serious need of maintenance and Pablo didn't waste any time getting us here.

Here we go... up and across the longest ridge ever.

Best described by Pablo, "It's a mind****."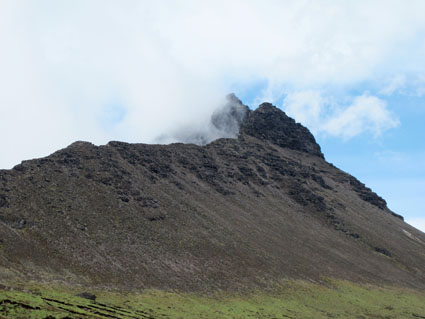 The climb was more technical than Ruco Pichincha. Elevation was about the same but more scrambles.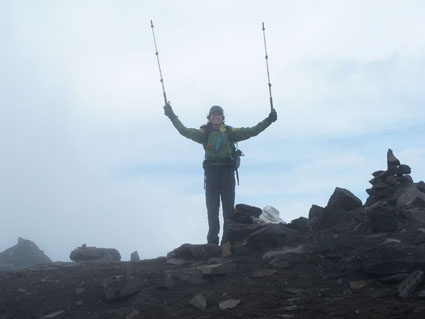 Summit #2, El Corozon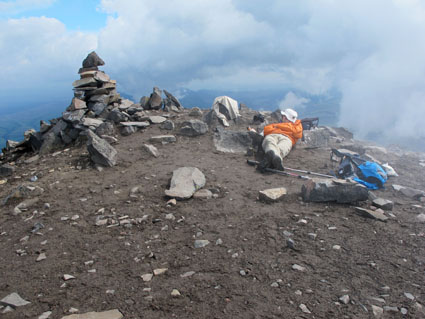 Siesta at 15,708 feet!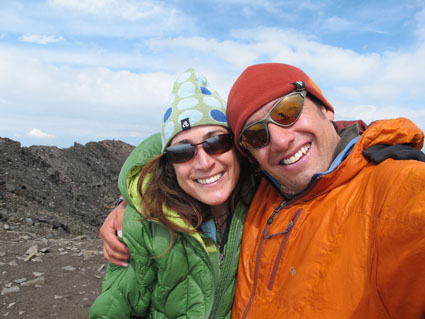 Breathing at high altitudes is definitely the biggest challenge. Trying to take in as much oxygen as possible with every breath.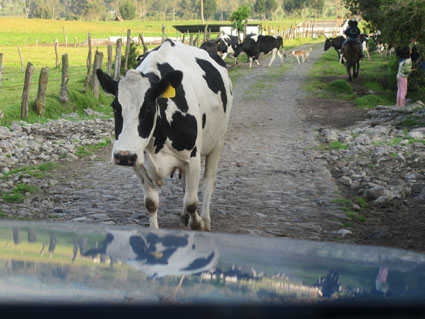 Heading back to the guest house.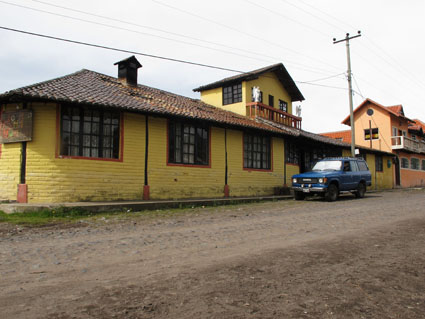 Finally, dinner and a much needed nights sleep.
Iliniza Norte...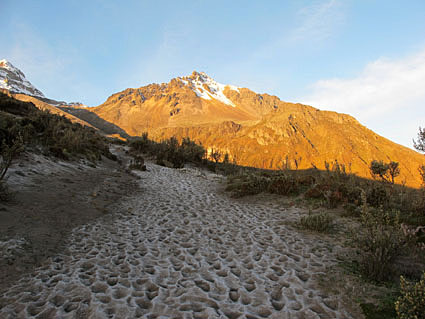 5 am... on our way up Illiniza Norte. Beautiful morning with amazing views of surrounding mountains.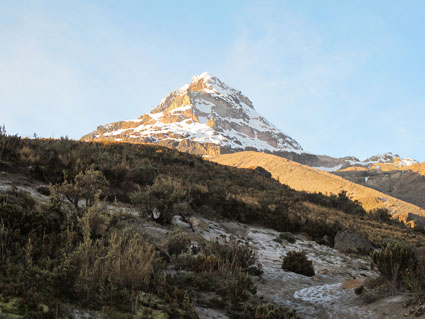 Illiniza Sur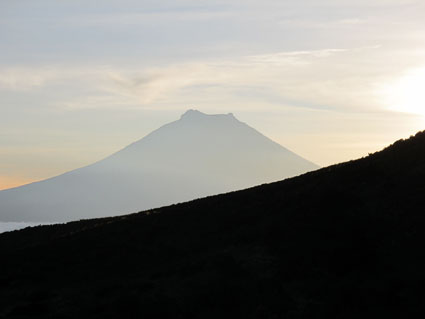 Cotopaxi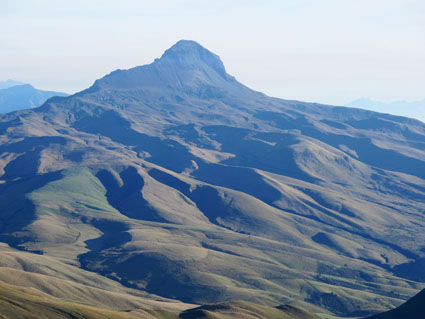 El Corrozon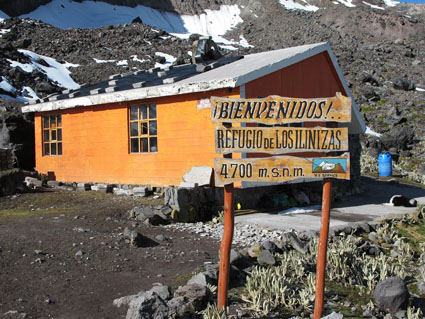 Illiniza Norte Hut

Neverending ridge along Iliniza Norte... another mind****.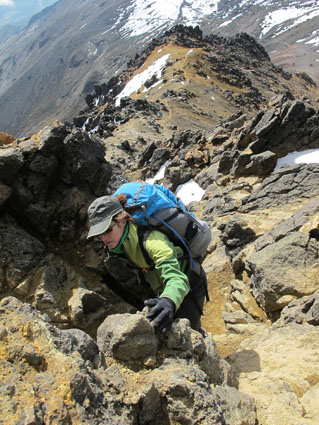 Lot's of fun scrambles along the ridge. Super exhilarating... rush from climbing is totally enhanced by lack of oxygen.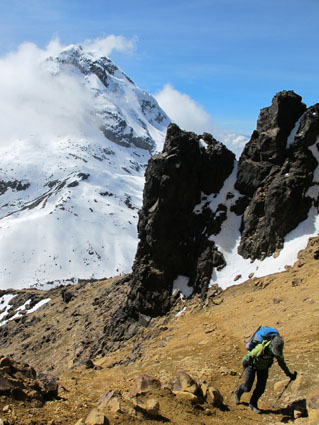 Lot's of rest steps...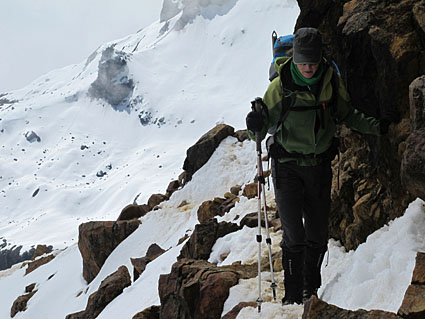 When deciding to bring crampons, opt for light hiking boots instead (my crampons only fit my heavy climbing boots). If things got to sketchy, the plan was to rope up to Pablo who was wearing his crampons. Wish I would have brought my own because not so confident Pablo could arrest my fall.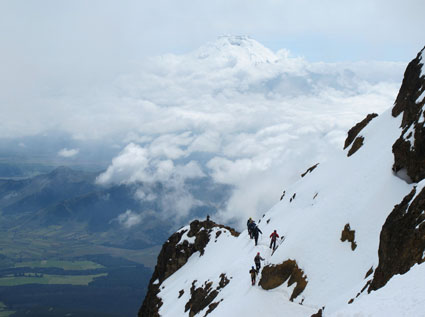 Steep drop. The day after our climb, a lone climber died while trying to cross this section. Really wish I had my crampons.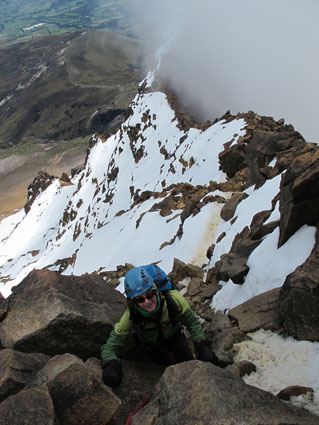 Last scramble up to the summit!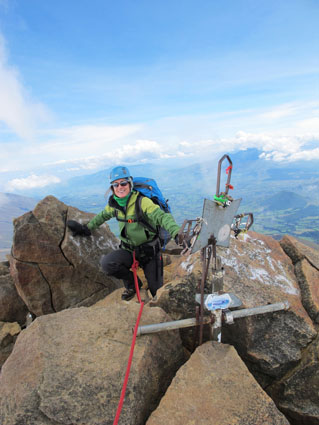 Summit #3, Iliniza Norte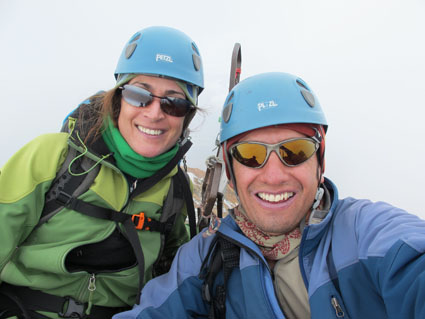 3 volcanoes in 3 days! The climb down was not pretty. My legs were so tired that I spent the first part of the descent stumbling down a snowfield. Should have taken a few minutes to put on my gortex pants and glissaded down on my butt. Should have brought crampons!
Tombopaxi...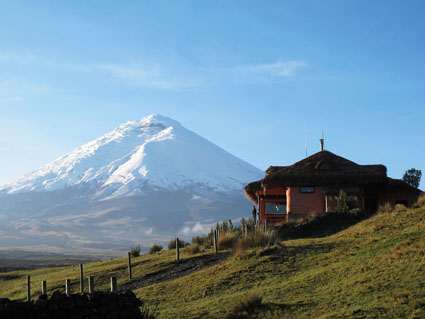 After we finally made it down the mountain, Pablo had to drive as fast as he could down more rutty roads so we could make it to Tombopaxi before the gate was locked at 3:00pm. We got there at 2:55!

Tombopaxi was amazing. Cervezas!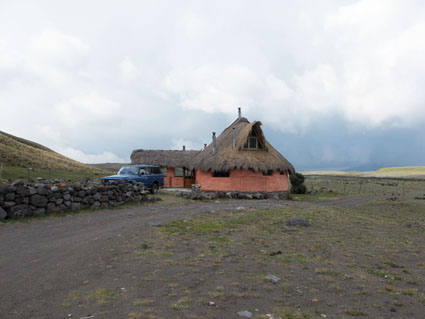 Really cool huts (unfortunately, this one burnt down the following year).

Breathtaking "in your face" views of Cotopaxi.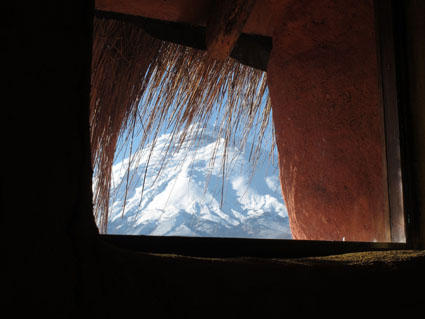 Beautiful morning. Actually have time to relax before heading to Cotopaxi hut.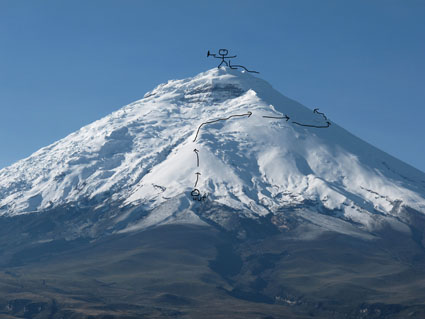 This is our route. After a short hike up to the hut, and a little sleep, we head for the summit at midnight!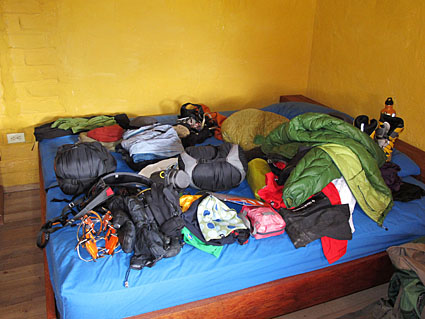 So much stuff! Pablo checked my oxygen level and heart rate. At 12,513 feet my O2 was 90% and heart rate was 85 bpm. Encouraging.
Cotopaxi...

About 45 min. hike up to the hut.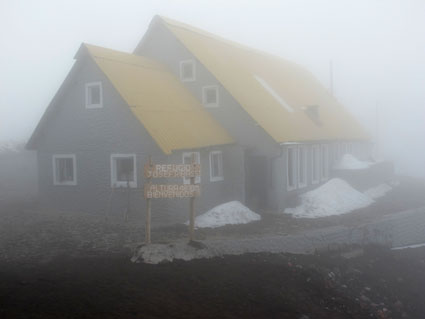 Cotopaxi hut. Pablo made dinner... chili-mac. Although there were many variables, nerves, elevation, etc.... I can't help thinking that chili-mac was responsible for upset stomach. The hut was really crowded and the other climbers were really noisy. Was up most of the night.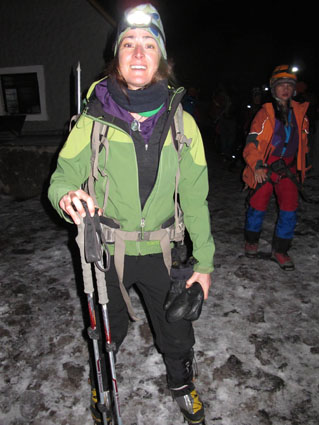 Day 5: 12:20am and heading up my first 6,000 meter mountain! Started out feeling strong and ready to go but... about 1/2 hour into the climb, my lungs were killing me. I felt like I was suffocating.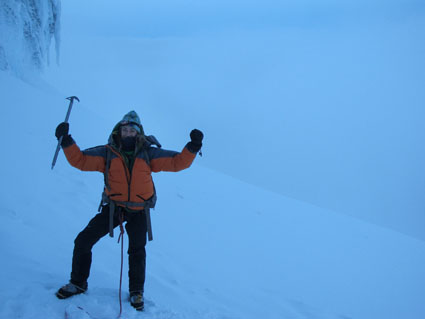 After 4 hours of struggling up the mountain, we took a break and I started to cry. My lungs hurt so bad that I was worried I might have pulmonary edema. I didn't think I could go on. Pablo asked me a lot of questions, "Do you feel dizzy, nauseous, how are your muscles, how are you breathing?" My breathing "technique" was totally messing me up. Pablo gave me some tips and although I wasn't convinced they would work, I gave it a try and... success!

Summit #4, Cotopaxi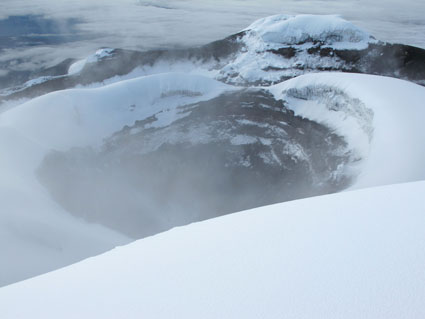 The last 3 hours were the steepest and should have been the hardest but because I was finally getting enough O2, I felt good. Really tired, but good tired. There were a few scary sections... really narrow ridges with steep drops nestled up against walls of slush (my ice ax would have been totally useless if I tried to arrest myself but I had it ready just in case), and many steep sections from 45 - 60 degrees at 18,000+ feet! The summit was amazing and worth every step. Beautiful views and the coolest crater ever.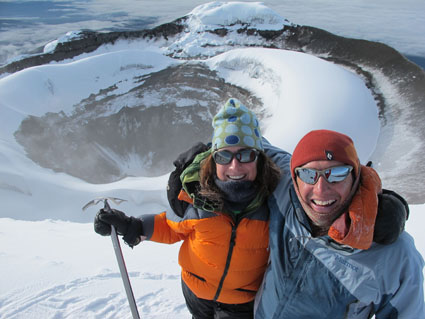 Good day!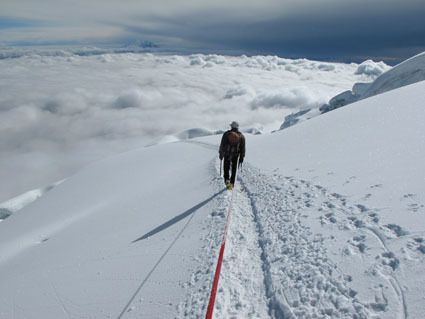 Beautiful views all the way down were breathtaking. The sun was shining I was so high on adrenaline after summating my first 6,000 meter peak!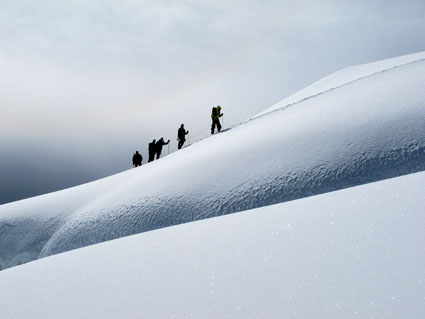 So happy to be going down...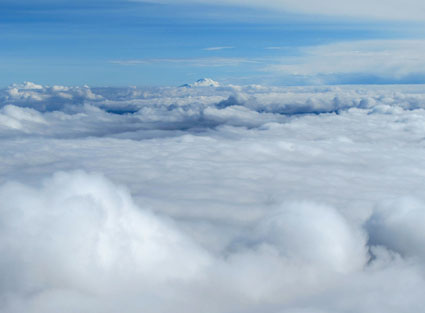 Once we got off the glacier, I unroped and glissaded down the rest of the way on my butt. It was really steep and I started picking up speed. Pablo told me to vier left but I couldn't turn. I tried to slow down but dragging my ice axe was useless. I rolled onto my stomach and tried to self arrest but my ice axe slipped out of my hand and I started flipping around until I was hauling ass head first toward a cliff. I managed to turn myself around and kicked and kicked until my heels dug into the snow enough that I was able to stop just a few feet above the drop. Crazy day!
"Rest day"...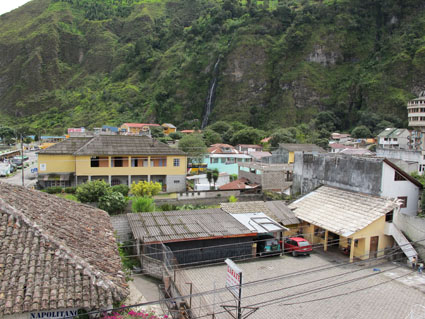 We headed to Banos after we finally got off the mountain. Banos is a really cute little town with natural hot springs. Great way to end the day!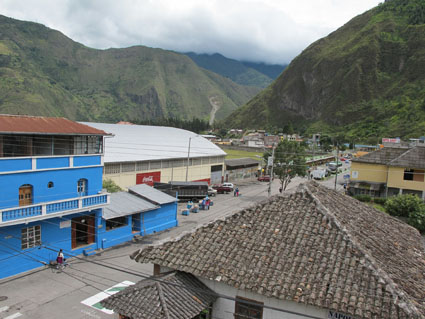 First full rest day... slept until 9am!

Delicious sugarcane alcohol... drinking by 10am!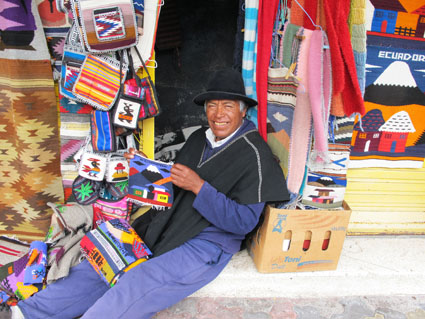 Went shopping.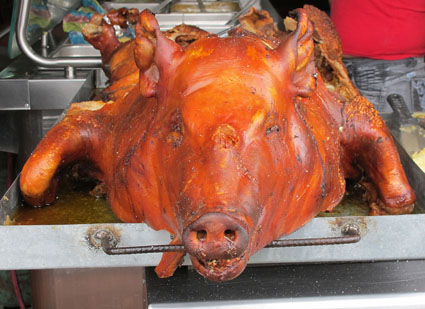 Headed to Riobamba, Pablo's hometown and gateway to Chimbarozo.

Stopped in Ambato for best cuy in Ecuador.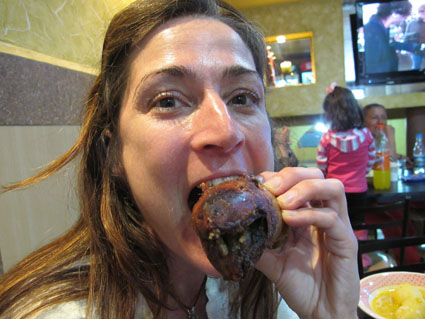 Tastes like chicken?
Chimborozo...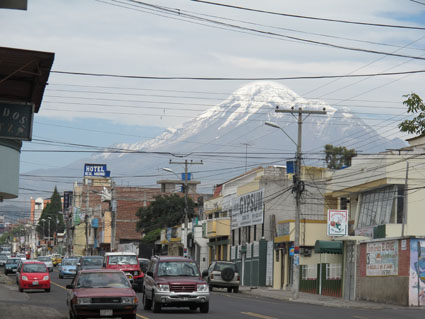 After a night out with Pablo in his hometown (not recommended before climbing a 20,000 foot mountain), headed to Chimbarazo.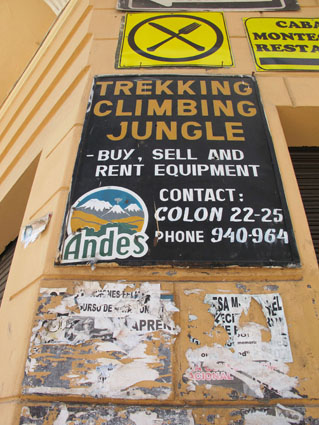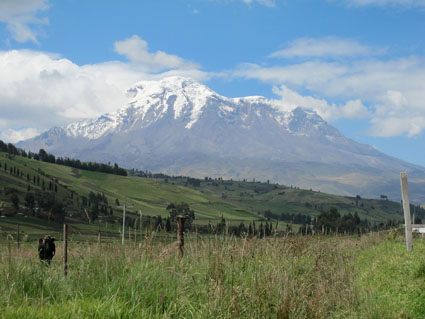 Perfect weather!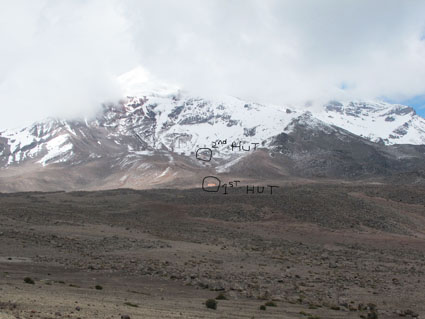 On our way to first hut. We drove all the way there.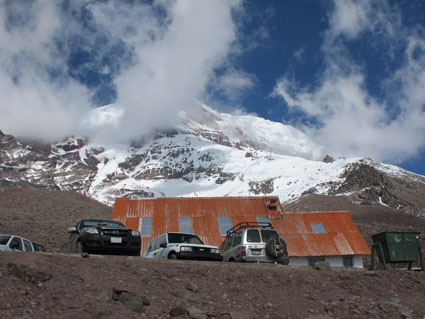 Took a nap and made dinner.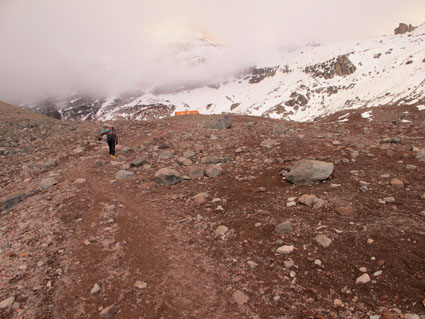 I was so tired after the crazy night in Riobamba that I actually slept (at elevation!) After dinner, headed up to second hut.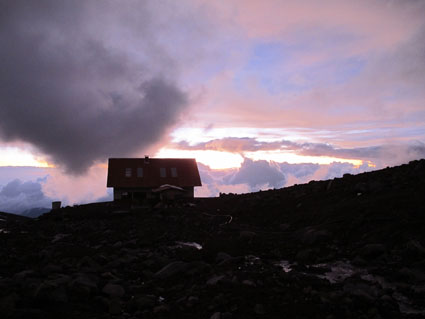 At second hut we got into our sleeping bags and went to sleep, at 5,000 meters!.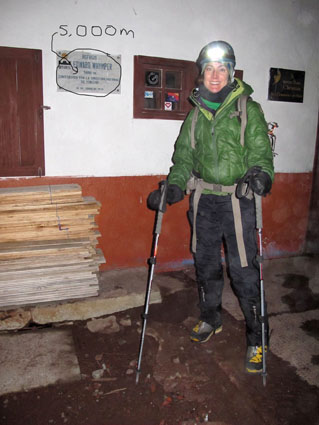 Woke up at 10pm so we could be heading for the summit by 11! The climb started out on rocky terrain and became steep quickly. My breathing was good and I felt great. The rocks soon turned into a scramble before we crossed a ridge and headed towards the glacier. Once on the glacier, the rest of the climb looked pretty straight forward... just one really long steep straight shot to the summit. We trudged up the glacier while pausing every step to take a breath. The pitch was so steep we either had to side step, kick steps and/or swithchback the entire climb. The snow was deep and if we veered to far off in any direction, we lost steps.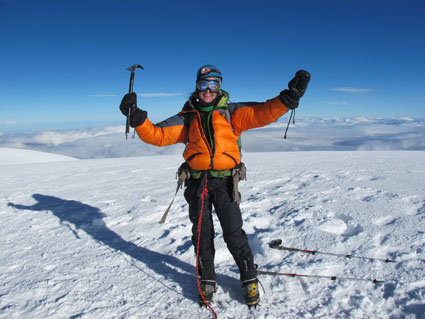 I was feeling really good until Pablo said, "Hurry up, I'm starting to fall asleep!" I wanted to punch him. At 5 am, Pablo estimated that we still had about 2 1/2 hours before we reached the summit. Although the weather was good, we had to hurry because once it started to warm up, rock fall would become a hazard on the decent.The climb was long but consistent. I looked down at my feet and tried to concentrate on my rhythm... step, pause, breath. The snow was getting soft so climbing was harder. My crampons kept slipping so I was falling and loosing ground, Pablo was yelling at me to hurry up. At 7 am, we reached the false summit! I was completely energized as we climbed down into a gully between the false and true summit and pushed one more time to the top! 20,000 feet! Summit #5, Chimborazo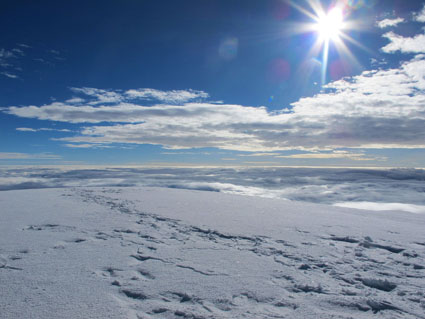 At 7:45 we headed back down to the hut. Although breathing was easier on the descent, my legs were spent. Getting off the glacier was a series of slips, stumbles, and snags. After the glacier, we continued to stumble down the mountain along rocks, snow, and ice before we finally came to the ridge. By now the temperature was getting warmer and rocks were starting to fall. Pablo pulled me out of the way of the first rockfall and told me to look down the mountain (away from the falling rocks) and move across the ridge as fast as I could. Once off of the ridge, the rest of the decent was relatively easy. One more little hike down to first hut and... my adventure was complete! 5 mountains in 8 days!